Sunday, October 23, 2011
I'm sure many of you have heard of hit-and-run case of Little Yue Yue in China, Fuzhou.
I've to say I'm still in major disgust thinking about it and felt even worse when I read on Friday night that the poor little 2 year old toddler has passed away simply because her body couldn't fight anymore. Her brain was so damaged that many parts of her body (limbs, lungs, immune system) can no longer function.
I find it extremely painful to admit that such things still happen in this world. And if as a person, we can't help our fellow human being, what would we do if it was a dog in this situation instead? I can't imagine. There are just many elements to this tragedy that upsets me. As I was watching the video, the father of Yue Yue appeared to look extremely calm which I found it rather strange. I had a talk with my mom and she simply said - Because she's a girl. WHAT? Am I hearing it right? We're living in year 2011 and we still practice such traditional values of 重男轻女 (preferring sons over daughters)?? My mom added that perhaps the father could get over it fast because they can always have another kid. I'm not a feminist but I felt offended. Maybe I overreacted.
Growing up in a huge family (my grandma has 7 children, my mother's the 3rd daughter), I've always never been my Grandma's favorite grandchild. I didn't take a second to wonder why because it was clear to me that it was really because I'm a girl and I can't carry the surname of the family. My grandma's face would lit up at the sight of my cousin who's the first and eldest grandson of the family. Don't get me wrong, I love my grandma nonetheless; and growing up I accepted that this is how things are going to be.
Anyway, this post is dedicated to Little Yue Yue and her devastated parents whom probably might never get over this ordeal.
Rest in peace, Yue Yue. Your story was heard/seen/felt by millions all over the world and though we've never met; your story has touched and angered me. I'm sorry you had to go through this. You were a strong little soldier, you know? I bet nobody expected you to last 8 days in ICU, fighting to stay alive; but you did. I know you're off to a better place - with cotton candy clouds, mashmellow pillows and a mountain of toys. I hope your case finds justice and the person who did this to you to be put behind bars to repent for what he has done.
April xo
Friday, October 21, 2011
Got into the office earlier to finish up some work and it suddenly dawned onto me that I've leaving for Perth in a week?! Worse part is I've ALOT of work not done. I'm pretty excited to fly alone though!
Just minutes ago I'm frantically checking on "Things to do in Perth" HAHAHAH. Talk about last minute planning. I'm so not a planner. But I kinda like the 'we'll see how it goes' swag I've going on right now. I know, I'm deluded.
Can't wait to see the following places in Perth that's.. er FREEEEEE!! #3 and #4 are not free, I think?
1) King's Park
Ok.. just greens....... definitely nicer than Botanical Gardens in SG!
2) Cottlesloe Beach
Am I hearing picnic?!?!?!? Wine but no cheese.
3) Caversham Wildlife Park
Gonna have 'close encounters' with Kangeroos, y'all.
4) Perth Zoo
Read #3, just see a lot more other animals.
Anyway, I think it's gonna be swell. Have a great weekend!
Tuesday, October 18, 2011
There are some heads that are cute, while black and white heads surfacing on your t-zone, nose (UGH!) and chin ARE GROSS. I've been using Etude house's green tea nose pore pack for awhile now and it has served me very well. It's also very cheap, 90cents a piece which can be purchased singularly so you don't need to commit to buying a whole pack of 5 pieces if it doesn't work for you.
I was at NEX mall yesterday and walked in to Etude House to get some cos my nose has got too much gunk! To my horror, they are sold out NATION WIDE. Obviously I was devastated. But not for too long, hee. Skinfood was just situated next to Etude, I decided to give them a shot. I mean what can be so bad right? The beauty advisor recommended me to get their star product - Skinfood Black beans nose pack. Comes in a pack of 7 and priced at $12.80.
Skinfood's known for using very natural ingredients in their products and for a korean brand it's quite costly. (For a tub of face mask can cost up to $41) I've never really used anything by them other than a sample tube of Rice mask I tried the other time which wasn't too bad. I've heard raves about it. I didn't see results because I didn't have the patience to try it over a period of time.
They have the exact same 'green tea-ish' smell when you peel the pack off and put it on your nose. I didn't find the smell overpowering (I've read many bloggers wrote that it stinks lol). It was manageable. It states to leave it on for 15 mins till its dry and true enough when it's about time you can actually feel the 'suction' from it? Like it's really removing all the GUNK!
When I stripped it off my nose, to my horror/amazement.. A LOT of gunk was pulled out! Like A LOT. I was horrified that my nose had that much gunk on it.
Here's a pic to prove. HAHAHA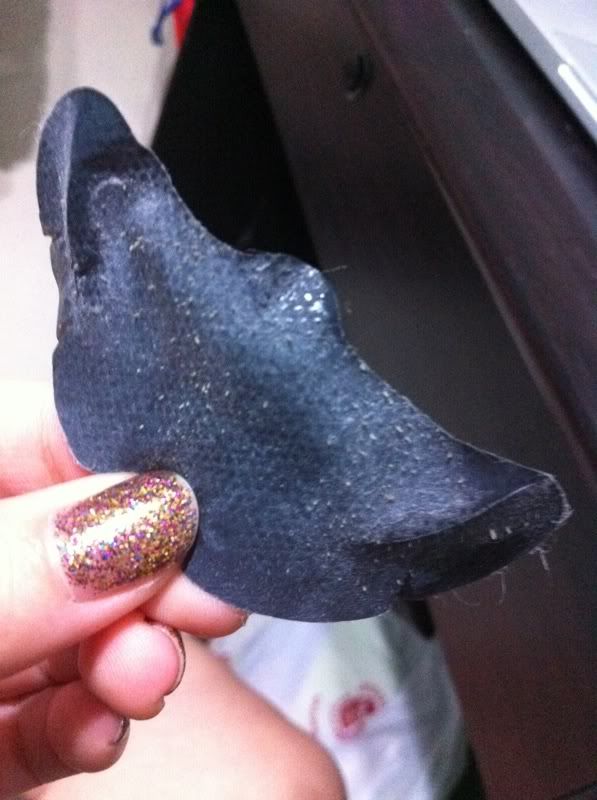 Can you see how much gunk's on it? I'm truly amazed!
My Verdict:
I'm very impressed with the results just by ONE application. My nose was a lot cleaner than before, though there are still much more to clear but it has to be done over time unless you want a major break out. Overall, I'm a happy customer. I'll definitely buy again once I run out.
Easy application. Just follow the blardy steps ok?
Instructions were thoroughly clear. It actually gave good advice! At the back of the pack it did say if you're living in a humid/warm climate, keep it on for 15 mins and cold climate, 10 mins. This is so you don't dry out your skin.
The Etude house green tea nose pack couldn't reach the inner corners of my nose which annoyed me much. This Skinfood black bean nose pack managed to pull out all the gunk at all corners. Got me pretty much covered!
The smell is not for everybody. It's manageable for me though.
Rather expensive in my opinion. There are definitely cheaper alternatives. Like Biore, Etude house..
Not sure if you can buy 1 piece a time. If we can't then its wastage if this product doesn't work for you as it comes in a pack of 7!
Ok back to work, till next time! xo A