Ok yes, hey guys I'm back blogging. Or at least I try to when I've free time. But don't count on it! Really.
So anyway, fresh from Nicole Richie's Twitter (follow her! she posts cute pictures of her baby girl Harlow!), Richie's new Maternity Line for A Pea in the Poo, is shaking away from all the bad light to Super Hot Mama! I adore the bohemian-themed outfits! They look so chic and wearable. Whoever said you can't look fab with a baby hidden under your tummy?
Look at the prints? I think this shade of green would look great on any skin color. I mean, look at the details. It's no longer boring and conventional. No frills or bib looking collars. Just prints and more prints. Being pregnant herself, Nicole commented that when you're pregnant, you feel like you need to revamp your whole wardrobe and that's the last thing a woman would want to go through. Her designs are catered to make pregnant women feel excited about dressing up, look good and at the same time be confident about their body.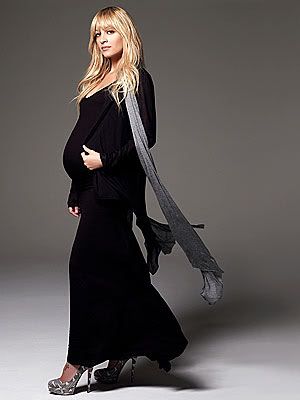 You notice how her designs are never too loud or understated? And can I mention again how comfy it looks to me?

Looks like, Marriage has really done Nicole Richie some good. Look at all the weight she gained back after pregnancy! She looks great and healthy.
This is where I believe Love help change someone, for the better.

Alright, I'm off to bed now.
Speak soon. xx
Images taken from:
http://stylenews.peoplestylewatch.com/2009/08/05/exclusive-sneak-peek-nicole-richies-maternity-line-for-a-pea-in-the-pod/