My experience with our latest tourist attraction.. ION, has been pretty fruitful, though I'm not so great with huge, huge places.
I've to mention the queue down at ION ORCHARD FOOD HALL (in B4) is.. insane. I've added 'Conquering all the Food Stalls at ION ORCHARD' onto my To-Do list.
Tsukiji Gindaco (#B4-64)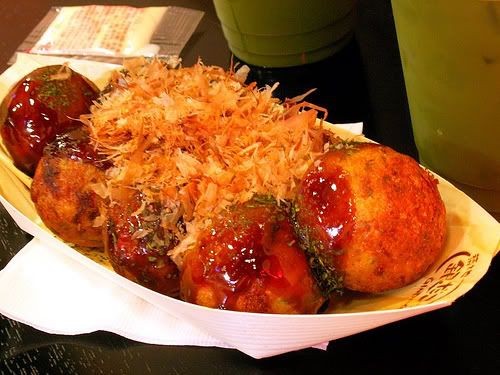 If you love Takoyaki, you'll
LOVE LOVE
this. In any case you don't know what does Takoyaki stands for, it's octopus balls. You see this in malls, at Pasar Malams, Singaporeans queue for it! Because it's such great comfort food. It's crispy on the outside, soft and warm on the inside. Yum.
This stall at ION ORCHARD, just tastes different from the usual takoyaki balls you get else where. Before I explain further why, I've to tell you how amazed I was with the people frying em' balls! They're like a freaking... takoyaki machine! They're so quick and at some point, rhythmic!
But anyway, here's my check list for the balls I bought ;]
1. Crispy on the outside - CHECK!
(I've to special mention this though, I don't know if you've get the experience of eating takoyaki balls and it's soft inside out in most places? Sometimes it could be because they've got so many orders, they don't make sure it's crispy on the outside? But rest assured, you'll get your balls perfectly crispy on the outside for this one. Hee.)
2. Soft and hot (NOT WARM) on the inside - CHECK!
3. No funny smell from Mayo sauce - CHECK!
It comes in a good portion of 6 pieces for $4.80, you can get a set for 1 for $6, that comes with a drink or icecream.